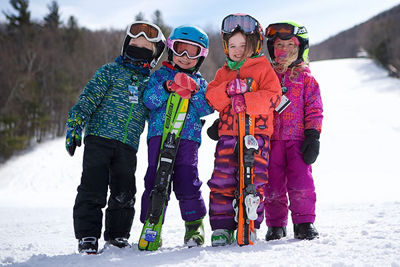 Get Excited!
Get excited and you might be a little nervous too but we will do everything we can to make sure you love skiing or riding at Mount Sunapee by the end of the season. You will spend your first days on the South Peak Learning Area, a mini mountain unto itself that is separate from the rest of the mountain.
We want you to know what to expect and feel prepared for your first day on the mountain so we shared some tips below for first-timers at our Learning Center. If you forget any gear at home, Mountain Outfitters is stocked with everything you'll need. If you have any questions you can call or email us. We look forward to seeing you soon!
What to Wear
A great day starts with making sure you are comfortable. Below are a few tips on how to prepare before you leave home.
Snowpants, active winter jacket, gloves or mittens, tall socks that go at least to mid-calf, under layers such as long underwear or leggings, and a face warmer to cover exposed skin if it is very cold. All these are going to keep you comfortable and dry during the day.
Don't wear cotton - it does not insulate well! Stick to wool and modern-day cold weather materials that breathe, wick moisture, and insulate while remaining lightweight and flexible.
Goggles are useful when it's sunny, windy, or snowing. We want to make sure you can see where you are skiing or riding!
Getting Here
Plan to arrive at the mountain at least 1 hour before your scheduled lesson time so you have plenty of time to get fitted with any rental equipment. Find suggested directions to the mountain here. Tell Siri or type into your car's GPS the following address:
1398 Route 103
Newbury, NH
03255
Familiarize yourself with the Mount Sunapee trail map so you know where the Rental Shop, Adventure Center, and lodges are when you arrive. A pocket-sized, waterproof trail map is available when checking in at the Rental Shop.
Arriving at Mount Sunapee
Depending on the day you visit, you will be directed to park in one of our 3 parking lots. If you park in Lot 3, a shuttle bus will take you to the Rental Shop at Spruce Lodge to get your day started. All guests taking lessons will receive their rentals when they check in at the Adventure Center. For those not taking lessons, please check in at the Rental Shop. If you have a car full of people, there are loading zones in front of Spruce Lodge, Sunapee Lodge, and the Rental Shop.
Disembarking the shuttle bus, you will most likely be greeted by a mountain host in an orange jacket. They are always available to answer your questions and help you with anything you need while are you at Mount Sunapee. We offer cubbies and weekend complimentary bag check services in both lodges.
At the Rental Shop
The Rental Shop is located in Spruce Lodge. Upon arrival you will be fitted for boots, skis, and poles with our rentals team. Let them know how the boots feel so your feet are happy all day! Once you have your equipment, store your belongings in the Spruce Lodge cubbies or bag check, adjacent to the Rental Shop, while you are skiing or riding.
Enjoy your day at Mount Sunapee!