Weddings at Mount Sunapee
Start your life together with family and friends in the unparalleled mountain beauty of the Lake Sunapee region. Nestled between the White and Green Mountains and just 90 minutes from Boston, Mount Sunapee Resort offers an idyllic and extraordinary location to walk hand in hand into your future. Relax and enjoy every moment of the celebration knowing that our team's top priority is to help you create the wedding of your dreams.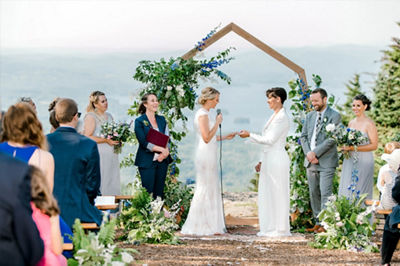 Ceremony
Step into your future together at your choice of two inspiring ceremony sites alive with mountain splendor. Let our skyride whisk you and your guests to the summit of Mount Sunapee, where you'll say unforgettable "I dos" against a spectacular 360-degree panorama of Lake Sunapee and the White and Green Mountains. Or gather friends and family amid a lush canopy of New England mountain greenery on our fieldstone patio at the mountain base.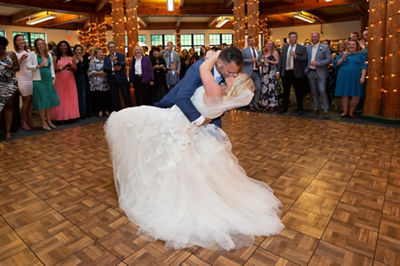 Reception
Continue the celebration in our grand and inviting reception space, the Sunapee Lodge. With New England-style post-and-beam construction, 360-degree windows, and a two-story cathedral ceiling, the elegantly rustic facility is ideal for both small and large weddings. The lower level perfectly accommodates celebrations of up to 80 guests, while the mezzanine level provides additional space for weddings of up to 225 guests. Host cocktail hour on our spacious patio with magnificent Mount Sunapee as a backdrop, feast on the gracefully-appointed mezzanine, and return to the main floor to dance the night away.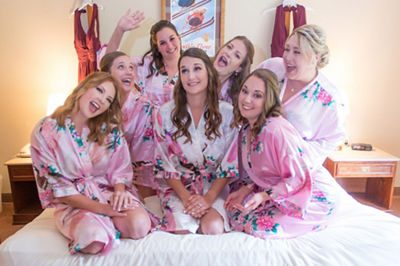 The Sunapee Experience
Extend your celebration with family and friends. Host a rehearsal dinner, welcome party or brunch at Goosefeathers Pub, with a wraparound deck for mountain views and fresh air. Dip in nearby Lake Sunapee, less than a mile away, or connect with guests over time spent rock climbing, on the aerial challenge course, or playing mini golf at the Mount Sunapee Adventure Park. Numerous nearby lodging options let you make your Sunapee wedding a destination affair.
New England-style post-and-beam construction, 360-degree windows, and a two-story cathedral ceiling, the elegantly rustic Sunapee Lodge is ideal for weddings. Host cocktail hour on our spacious patio with magnificent Mount Sunapee as a backdrop, feast on the gracefully-appointed mezzanine, and return to the main floor to dance the night away. Your ceremony can take place at the summit of Mount Sunapee with magnificent views of Lake Sunapee and the White and Green Mountains or on our fieldstone patio next to the pond at the base of the mountain. Both ceremony locations are perfect for outdoor enthusiasts.
Venue Details
Availability | May – November
Accommodates | Up to 225 GuestsFood & Beverage Minimum | Starting at $8,000++
Venue Package | $5,000 – including lift transportation, dining tables and chairs, display tables, cocktail tables, standard linens, china, stemware, cutlery, ceremony site with chairs, and dance floor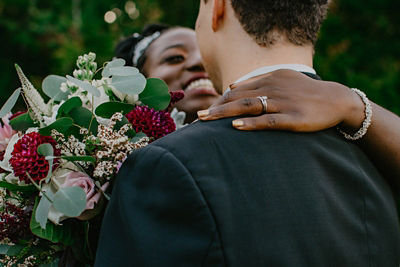 The Perfect Mountainside Wedding
Ken and I had our wedding on September 27 at Mt Sunapee's gorgeous mountainside venue. The location was absolutely beautiful, inside and outside, making for a dreamlike experience. The food that Mt. Sunapee provided was spectacular, and many of our guests commented that it was the best food they had ever eaten at a wedding. All of the staff at Mt. Sunapee did an over the top job of setting up the décor that we provided before we got there, and the communication with Pipere, Laura, and everyone else was very easy. Compared to other wedding venues, and what we got from Mt. Sunapee was amazing for the price. They provided us with suggestions for vendors, lodging, and even things to do the weekend after the wedding. The only downside is there is very little cell reception at the venue, but this did not damper our day.
Having only three months from the time we got engaged to our wedding date, we knew it would be tough to get our wedding planned, but Mt. Sunapee made it very easy. They were flexible with their availability and prices, and they really went above and beyond to make this the wedding of our dreams. They have a food minimum, rather than charge by guest count, which took a lot of stress off of our shoulders when considering who to invite to the wedding. Ken and I highly recommend to anyone getting married in New England to consider Mt. Sunapee as their wedding venue.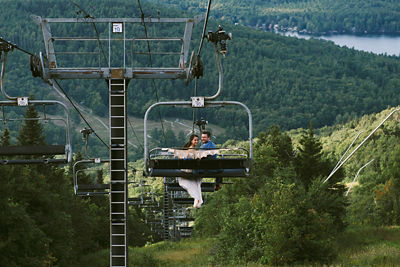 Perfect Wedding!
We had our wedding at Mount Sunapee in August 2019 - they were an absolute pleasure to work with! The staff is responsive, very knowledgeable, and pleasant. They made the planning process as stress free as they could and the day of was a breeze. The summit views are gorgeous, our guests raved about the food, and the coordination they provided between us and the vendors was very helpful! We can't thank Mount Sunapee enough for making our day so memorable.
Angelo, married on 09/08/2019
Above and Beyond Expectations
I'm not sure where to begin praising Mount Sunapee Resort--they were amazing and we have no regrets.
I asked my wife for feedback and she related feeling like a queen. Mount Sunapee staff were attentive and anticipated our needs. For example, during post-ceremony photos, staff brought appetizers and drinks out to the wedding party. We weren't expecting this and it was greatly appreciated.
Here are some details / examples that will help choosing your event venue:
1) The ski lodge transforms into a beautiful venue during the summer--inside and out. Get a tour before deciding.
2) Pipere and Laura were a pleasure to work with and had every detail nailed down.
3) Highly recommend using Mount Sunapee's recommended vendor list. It made the vendor selection easier and gave us a place to start.
4) They made the outdoor ceremony area accessible to our guests with trouble walking. The ceremony area was beautiful.
5) There was a variety of dinner and appetizer options based on budget. We received a lot of positive feedback on the food.
Thank you Mount Sunapee for making our day great!
Brittany, married on 09/07/2019
Just perfect
My Sunapee was the first venue we looked at. After visiting and speaking with the staff it was the only venue we looked at. It was such a beautiful venue. We do a lot of fishing on the lake so it also had a lot of great memories for us so it was a no brainer. It was the most perfect day. The weather was beautiful and the mountain and reception area were PERFECT. It is sometimes so difficult to imagine a "ski resort" looking so perfect but it truly was. The lighting and two separate floors were so stunning and everything I've ever dreamed of plus some. The staff were so wonderful to work with, answering all of our questions and helping us with everything. We couldn't have had a better time! Thank you for everything! We cannot wait to come back to visit both in the winter and summer.
Emily Lukasiak, married on 08/30/2019
Best Day of Our Lives
My husband, Bruce, and I, held our summit wedding at Mount Sunapee on 08/30/19. There is not enough I can say about the perfection of it all. Even though there was a sudden change in staff a few short months before our wedding, all of the coordinators handled it with grace and ease. Laura and Pipere are absolutely incredible. They were very accommodating and easy to work with. From the weather we were blessed to have on the day of our wedding, to the absolute deliciousness of the food, the day could not have been better. It was everything we imagined it to be and more. Having skied Sunapee many times throughout our lives, we knew the first time we went there for a wedding consult that it was our place. Thank you Laura, Pipere, and all the other staff members at Mount Sunapee. We are honored and grateful that we got to spend the most special day with you all.
Stefani and Nellie, married on 05/07/2019
Amazing Ceremony Venue
Mt. Sunapee did an incredible job with our wedding. Everything went smoothly and we received many compliments on how well run the ceremony, reception, etc. were. This was due in large part to Laura and Pipere, who are very organized and communicative. It was an awesome experience working with the whole staff and we appreciate all the work they put in to making our day an exceptional experience. We can't recommend enough!
Katherine Nichols-Leindecker, married on 10/04/2019
Recommend!
Overall we had a positive experience with this venue! The best part of this venue was Laura (Event Coordinator)!! Laura decorated the reception hall so we didn't need to worry about this the day of! I loved that it was a surprise for us when we got announced in too. We did ceremony off-site but went to take photos at the mountaintop where ceremony could've taken place. Laura met us at the top with a golf cart to save us from the chill which was great! We did have a small issue with the chairlift run time but it was satisfactorily resolved. We were also met with the delicious cocktail hour hors d'oeuvres (artichoke dip is a must) when we got off the chairlift. They do the dinner upstairs (if certain guest number) and the reception downstairs so we did need a good number of centerpieces but I liked that dinner was completely separate from the rest of the reception. The lodge itself is really great with cool photo opportunities, but it's Laura and her hard work that definitely makes this venue shine.
Kelby, married on 09/21/2019
Mount Sunapee Resort Wedding
I am so glad we chose to have our wedding at Mount Sunapee Resort. It more than exceeded our expectations. We were planning a wedding from New Jersey and the staff at Mount Sunapee couldn't have made the experience more simple. They took care of everything and made it a wonderful and memorable experience overall. If you want to get married at a beautiful location with delicious food and incredible service; this is the place!
Elizabeth, married on 09/14/2019
Mount Sunapee Wedding
The moment we walked into Mount Sunapee with the idea of having out wedding there, we were hooked! The mountain top ceremony and the indoor venue looked beautiful! Pipere and Laura were very helpful during the days of planning! Despite windy and misty conditions at the summit they made our ceremony go off without a hitch all the while giving us many options to make sure we were happy. Our reception was perfect! We had so much fun and would recommend this venue to all future couples.
Unbelievable Experience, Absolute Dream Wedding
We initially put Mount Sunapee on our list because it was close to home and it matched the outdoor feeling we were looking for. They responded quickly to our email about meeting. We had skied at the mountain plenty of times, but the pictures the event coordinator showed us were gorgeous! Just the right amount of elegance mixed with a rustic feeling. They walked us through our ceremony options and knew the second we saw the summit ceremony that this was our venue! We were engaged at the top of a ski mountain and knew this was a perfect match. We booked immediately. From the get-go, Laura provided all of the information we needed, answering plenty of questions in a timely manner. I knew I was in good hands. She explained logistics clearly which left me with zero doubts that the day would go smoothly. I was not wrong. The entire day went so smoothly that I keep asking myself if something went wrong and I just didn't realize it. The summit ceremony was gorgeous. The views are unbelievable and the chairlift provides a unique experience for your guests. The reception was absolutely perfect, the patio allowed guests to venture outside and the lodge provided an intimate feeling, bringing everyone together but with plenty of space to sit if necessary. Everyone was incredibly attentive and made sure everyone felt like they were a priority. We are forever indebted to the mountain and staff for providing an unbelievable experience! Not a question, we would absolutely recommend them to everyone!
Contact Our Wedding Experts