Dining
Thanks to continued improvement in COVID-19 cases, proof of vaccination is no longer required for guests to dine at our indoor cafeteria-style restaurants, effective Saturday, Mar. 12, 2022.
The On-Mountain Dining Experience
Keeping you properly fueled is key to a great day on the mountain, and we're passionate about brining you a variety of dining options to make that happen. Before you head to one of our dining establishments, please read through updates to our safety and dining policies.
DINING POLICIES: We strive to provide a variety of dining options for all of our guests who wish to dine with us. In order to accommodate the high volume of customers our restaurants serve, we ask you to observe the following dining policies:
All tables and seats will be available for present guests only. We ask that guests please do not hold tables.
All tables have a time limit of 45 minutes.
There is no storage of personal belongings in our restaurants or lodges unless in a designated locker or cubby area.
Catering or communal food for large groups is not permitted. Individuals and small groups are permitted to bring in their own food.
Holding multiple tables for large group dining and outside parties is not permitted.
Make a Reservation

, opens in a new window
Hours of Operations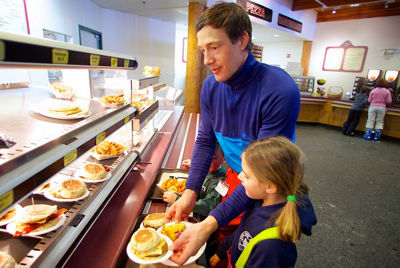 Sunapee Café
Located at the top of Lot 1 is our Sunapee Lodge with a Guest Services desk, Mountain Outfitters retail store, and food options. The food court serves breakfast and lunch 7 days/week.
You will find grill items such as hot dogs, hamburgers, and chicken sandwiches, as well as healthy options like fresh salads & wraps, yogurt parfaits, and soups of the day.
Please note that ski and snowboard rentals are located in Spruce Lodge.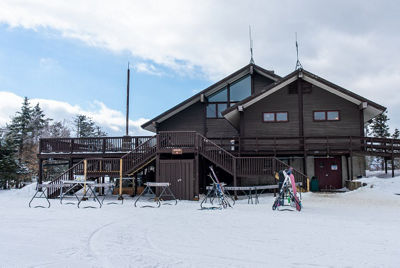 Summit Café
Currently closed for food service.
Our Summit Café, located right off the Sunapee Express, is in a classic New England ski lodge with a beautiful stone fireplace. If you're looking for a change of scenery, it is a great place to stop for grab and go items while you take a break from the trails.
The Summit Lodge also has a wraparound deck with an upper level on the back side of the lodge with great views. Take a moment and soak in the vista at over 2,700 feet and spot Vermont ski mountains like Okemo and Mount Snow. Across from the lodge you will see another building which is Summit Ski Patrol. Stop in if you need assistance of any kind.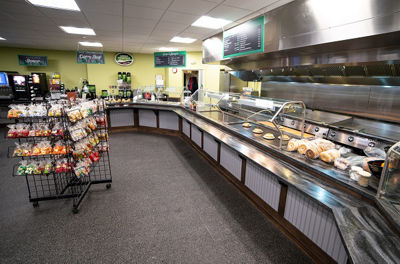 Spruce Café
Open for Grab & Go services. For hours, please visit our Hours of Operations page.
The Spruce Café has grab & go options to refuel the whole family and get you back on the mountain in no time!
If you are looking for a pub to enjoy a cold beer and waited service, check out our Goosefeathers Pub on the second floor of the Spruce Lodge.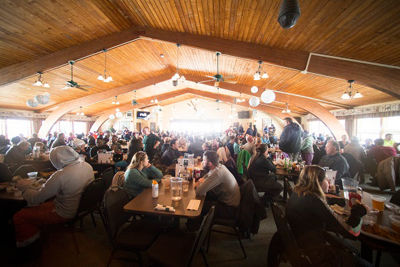 Goosefeathers Pub
Goosefeathers Pub is located on the second floor of Spruce Lodge and is one of the locations at Mount Sunapee that serves alcoholic beverages. The Pub offers table service for lunch and an après-ski menu. The Pub has a wraparound deck that features outside seating for sunny days with waited service.
Upcoming Entertainment:
March 12: Matt Beaudin
March 17: St. Patrick's Day Mug Club Appreciation Party
March 18 & 19: Dr. Harps Blues Band
March 26: Colin Herlihy
We donate $1 from every Tito's drink, up to $1000 per month, to charity. This month's charity is Upper Valley Humane Society.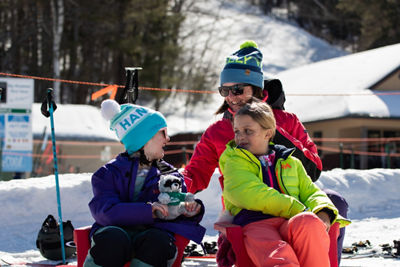 South Peak Base
Currently closed for food service.
Beck Brook BBQ will be open on Saturdays and Sundays to give you a quick boost of energy to fuel your day.