Aerial Sky Ride Round Trip Rates (trip is approximately 12 minutes one-way)
Infants in packs are NOT allowed to ride with a parent.
You must have a round-trip ticket to ride the lift, which can be purchased at the Adventure Park. If you are planning to hike to the summit and take the lift down, we encourage buying your ticket in advance before you head up but tickets can also be purchased after riding the lift down, at the hut at the base of the Sunapee Express.
Rates
Ages 4 and under ride for FREE
Ages 5-12 for $13.00
Ages 13+ for $17.00
The Sunapee Express chairlift opens at 10:00am on operating dates. Thu through Sun-4:30pm up-4:45pm down
All participants are required to complete our Summer Activities Release of Liability Waiver at the time of purchase.
Play All Day Package: Aerial Sky Rides are included.
Please Note: No more than two children ages 3-5 can ride a chair with one adult.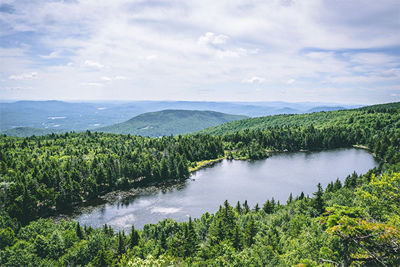 Breathtaking Scenery
Mount Sunapee is the perfect getaway in every season! Come take an aerial sky ride to enjoy the breathtaking summit scenery. Jump on board our Sunapee Express chairlift and enjoy the trip as you ascend to the summit. Unload at the top and take time to experience the view from multiple viewpoints. Eat your bagged lunch, read a book, or simply relax at the peak. When you are ready to head back down, jump on the lift and enjoy the view all the way to the bottom.

Looking for the perfect family hike? Take your whole family on an Aerial Sky Ride on the Sunapee Express and enjoy a one-mile hike each way on the Lake Solitude Trail over to beautiful Lake Solitude.